Itenas and the Geospatial Information Agency (BIG) Sign the MoU on the Utilization and Use of Geospatial Information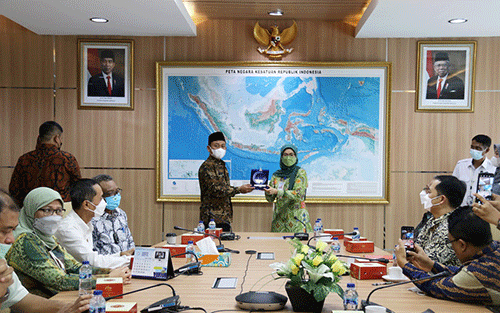 On Wednesday, 22nd June 2022, a Memorandum of Agreement was signed between BIG and Institut Teknologi Nasional (Itenas). The event was held in the Main Meeting Room of Building A Lv.2, BIG Office, Jl. Raya Jakarta-Bogor KM.46, Cibinong, Bogor, West Java.
The MoU, which was created based on the Tri Darma of Higher Education based on the utilization and use of geospatial information, was signed by the Rector of Itenas, Prof. Meilinda Nurbanasari, Ph.D., and Head of BIG, Prof.Dr.rer.nat. Muh Aris Marfai. 
On her speech, Prof. Meilinda was hoping that this collaboration can support Merdeka Belajar Kampus Merdeka (MBKM) program which is running in Itenas. "One of the implementations of MBKM program is a one-semester internship system for students in related industries".
With the growth of science and technology in geodetic science, the need for geodesy graduates is very high. This high demand is the challenge that we hope can be fulfilled by Itenas so that it can be absorbed by stakeholders in the future.
The scope of the MoU includes the implementation of geospatial information; study and implementation of science and technology in the field of geospatial information; improvement and development of human resource competencies related to geospatial information; information dissemination about geospatial information to support community service activities; and other approved activities in the future.
On the implementation of Geospatial Information (IG), BIG has many supporting data that can be used by universities like Itenas. Moreover, BIG has a lot of tide stations and Continuously Operating Reference Stations (CORS) whose amount is increasing. "This data is amazing and can be used by students for research. This data is also free," said Prof. Dr. rer. Nat. Muh Aris. The head of BIG hoped that this collaboration can realize the utilization and development of science and technology related to Geospatial Information (IG) to support national development and improve the quality of the implementation of tasks and functions of BIG and Itenas.