Itenas Won Four Categories on the Anugerah Wilayah LLDIKTI Wilayah IV 2023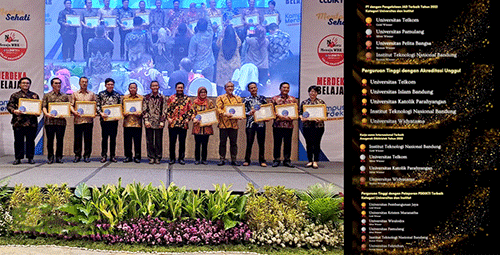 Only two months after the Gold Winner achievement in the category The Best International Cooperation of Private College on Anugerah Diktiristek 2022 (The 2022 Diktiristek Awards), Institut Teknologi Nasional (Itenas) Bandung has just won awards in four categories on Anugerah LLDIKTI Wilayah IV 2023 (The 2023 LLDIKTI Region IV Award) which was held in Novotel Tangerang hotel, Thursday (16/2/2023). On that awarding night, Prof. Meilinda Nurbanasari, Ph.D. (the rector of Itenas) attended as a representative of the institute.
The first award Itenas achieved was Bronze Winner in Higher Education with the Best Lecturer Academic Position Management (Jabatan Akademik Dosen/JAD) in 2022 in the University and Institute Category along with Universitas Pelita Bangsa. Meanwhile, the Silver and Gold Winner achieved by Universitas Pamulang and Telkom University, respectively.
The second award was achieved by Itenas for the best institutional governance according to the "Excellent" predicate based on the assessment of the National Accreditation Board for Higher Education (BAN-PT). Apart from Itenas, other universities such as Universitas Widyatama, Universitas Katolik Parahyangan, Universitas Islam Bandung, and Telkom University also received awards in the same category.
The third award was Bronze Winner as the University with the Best PDDIKTI Reporting in the University and Institute Category. This achievement was obtained based on the reporting percentage for the 2021 odd and even semester periods, the percentage of classes filled, the appropriate basic data, and the appropriate reporting.
The achievements of Itenas International Office as Gold Winner in The Best International Cooperation of Private College Category on Anugerah Diktiristek 2022 were very well appreciated by LLDIKTI Wilayah IV. This special award was given to higher education institutions under the auspices of LLDIKTI Wilayah IV which excelled in Anugerah Diktiristek 2022 in various categories.
Congratulations to Institut Teknologi Nasional (Itenas) Bandung for the awards that have been obtained. Hopefully, through the achievements in the Anugerah LLDIKTI Wilayah IV in 2023, it will continue to spur Itenas to move forward toward the title of a world-class university.